If you have ever passed through the village of Rocester, not far from Uttoxeter, on your way to or from the nearby mega theme park of Alton Towers, you more than likely have been struck with the menacing sight on of what can perhaps be fairly described as a menacing robotic looking metallic alien like  spider creature set amongst the stunning landscape of JCB's world headquarters.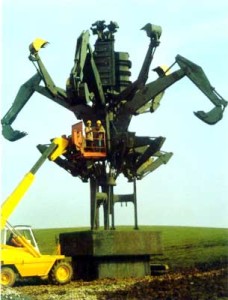 The piece  – called The Fosser (Latin for Digger) – is the most significant of the many sculptures around the JCB site at Rocester and was commissioned in the seventies by chairman of JCB Anthony Bamford who wanted a powerful representation of the global digger and earth moving company.  Designed and constructed by the world famous artist 'Walenty Pytel',  The Fosser was the largest steel sculpture in Europe at the time of its creation, standing forty five feet high and weighing thirty six tonnes.  It is composed of parts of JCB excavators welded together to create the appearance of a monumental predatory spider.
It is symmetrical with four large mechanical digger arms and for smaller arms between them set around a central core.  It's form is reminiscent of those giant earth invading insects often seen in 1950s science fiction movies and comics.
JCB have always endeavoured to develop the landscape around their global headquarters on Staffordshire – and this piece certainly adds to the otherwise tranquil landscape of lawns and lakes and wildlife, in quite striking and fascinating way.
About the artist Walenty Pytel
Polish sculptor Walenty Pytel is unique amongst contemporary artists. He is internationally renowned as Europe's leading metal sculptor of birds and beasts and is one of the worlds finest craftsmen. His inspired creations are drawn from nature and transform metal into works of living art.
Original sculptures are in mild steel and range from small table size to large courtyard pieces. Limited editions are available in bronze. His work is commissioned by business as gifts, boardroom art and architectural sculptures and fountains. Sculptures adorn office buildings, courtyards, gardens, banks, hotels, conference centres, shopping centres and factories throughout Britain and the World.
Much of his work is destined for private collectors and the corporate world, as interior design features or gifts of unusual distinction. With commissions also from Royalty, governments, public bodies, architects and many councils.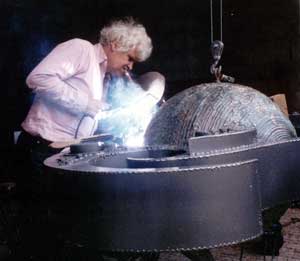 Commissions have included Lloyds of London, Royal Caribbean cruise line, Chanel perfume, Cadbury's, Mitchell and Butlers and Bacardi.   The artist undertakes sculptural fine art works individually fabricated in steel.  Works range from table top to monumental in scale.
For commissions call 01989 780 780 or contact Walenty by email: info@wyebridge.com