Daisy Campbell is a Illustrator working on both personal and commissioned projects, from her kitchen table in Burton upon Trent, Staffordshire
Her fine, intricate drawings capture a story or insight into her love of nature, through it's movement of the line and it's subject.
Having opened up to using colour in the last couple of years, it's brought about a change in style and influences in her piece's, with recent works featuring spray paint, earthy tones with random imagery, from surfers with diver heads, to beach huts lost in tornado's of seaweed.
Approaching Lines
Her latest projects have been inspired by all things ocean, having just become a part of Approaching Lines, a collective of artists, artisans and film-makers all drawn together by there mutual love of the glide.  It's an ever-evolving journey with her pen and paper.
Caught On The Line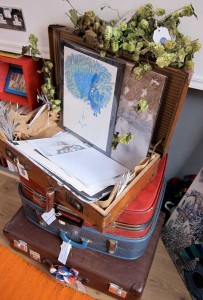 Daisy very recently exhibited a  showcase original work, all created in this past year, aboard The Book Barge – a floating gallery and independent book shop at Barton Marina, Staffordshire
Along with original piece's, there were postcards for sale and prints to order which created quite a splash within the unique setting.  Anyone wishing to see more of Daisy's work, order more postcards or prints, or commission an original piece of illustration she can be contacted below.
More of Daisy Campbell's Work
Daisy Campbell Website: cargocollective.com/daisycampbell
Daisy Campbell Facebook Page: www.facebook.com/Daisy-Campbell-Illustration
Follow Daisy on Twitter: @DaisyCampbell6