Funding opportunities for arts are forever on the decrease, and ever more competitive for what is available.  Unfortunately that is even more the case this year with the demise of Staffordshire Community Arts Fund
Staffordshire Community Arts Fund
Staffordshire County Council's Community Arts Fund helped to support Staffordshire communities in their access to a wide range of cultural activities.
In the last year the fund supported over 30 projects which helped benefit up to 50,000 people across Staffordshire.
The funding has now come to a close and you can see a video here which highlights just some of the beneficiaries form the past several years using arts to Make a Difference in their communities.
Gill Heath, the councillor responsible for arts at Staffordshire County Council said:
Our commitment to spend £300 million on care this year, while receiving less money means we have had to make very difficult decisions in areas like the arts.  Nonetheless, there is a thriving amateur arts scene in Staffordshire and our officer will help those groups and organisations in any way they can to access support.
About the Community Arts Fund
The Community Arts Fund was available to any arts organisation or community group planning an arts project or event in Staffordshire.
Arts organisations were able to benefit in a similar way to Frontline Dance who has previously received funding to create dance work with Staffordshire care home residents.  This initial funding has helped this acclaimed company to establish themselves as one of the leading arts companies focusing on dance, disability & older people.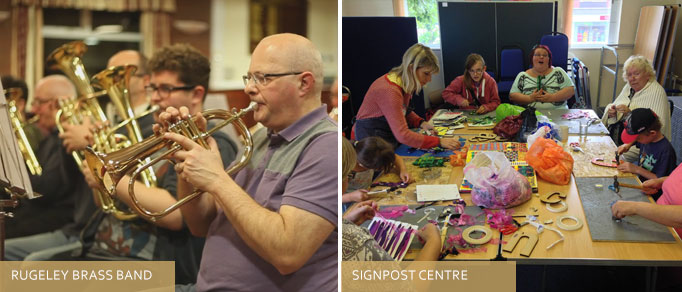 Rugeley Brass Band has also benefited from access to money from the arts fund to help raise awareness of their organisation and to provide activities.  This super video called Bring Out The Brass help to tell their story
Last year we saw some fantastic events take place, and received applications from all over the county. This year we would like to see even more.
Who gets Funded?
Last year 34 organisations in total were funded. One applicant, Signpost Centre, Stafford, applied to run summer workshops to engage young people and their families to create 'eco art' using recycled materials.
Participants were able to learn new skills, explore unusual materials and use new methods to create their work together and show their final pieces to the public.
Ken Down at Signpost said:
The community fund enabled Signpost to put on high quality art workshops for people in disadvantaged communities who would not normally be able to afford to attend such workshops. The workshops were engaging and helped to build people's confidence, bringing out undiscovered qualities and skills from the participants.
End of an era – So What Now?
Now that Staffordshire Community Arts Fund has  come to a close you may need to pursue other avenues of funding.
Here's a summary to help you on your way to perhaps aquiring financial support for your next Staffordshire arts project.
To speak to someone about what may replace the  Community Arts Fund, or to gain advice about other possible sources of funding, contact Tracie Meredith, Staffordshire County Counciil Community Arts Officer on 01785 278571 or email tracie.meredith@staffordshire.gov.uk

For further advice on where to find local funding and advice, please browse our other funding web pages.

You can also keep up to date with other news and funding opportunities through Arts Connected.