A temporary art and design exhibition called Twenty17 has popped up in Stafford Town Centre, which will showcase the work of Fine Art, Graphics and Digital Design, Fashion Design and Photography students from Stafford College Contemporary Creative Practice degree courses.
As well as being GREAT USE of empty shops in the town, it will be exciting to see the work of Staffordshire arts students exhibiting their work LOUD AND PROUD in the centre of Stafford at the former River Island premises at Guildhall Shopping Centre from 13 – 18 May 2017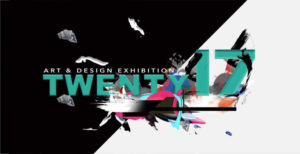 Twenty17 will feature fine arts, illustration, animation, design craft, graphic design and photogaphy pieces.
It will be the last chance to collectiveley see the high standard of work created by Stafford College's current graduating students before they go it alone and embark on their individual creative careers.
Graduating student, Becky Doyle said:
"The exhibition for me is the culmination of five years of study at Stafford College and I'm looking forward seeing my work in a professional setting and using this opportunity as a platform to launch my creative business".
Liz Ingram, Degree Award Leader at Stafford College added:
"The exhibition will give our students the opportunity to employ key business skills learned on the course and also the opportunity to showcase their work in the public domain."
You can find out more about Stafford College's range of Art and Design courses here
Twenty17 will be open from 10.00am to 4.00pm, from Saturday 13 May to Thursday 18 May 2017, excluding Sunday.  GO SEE IT and SUPPORT whenever your'e in town.